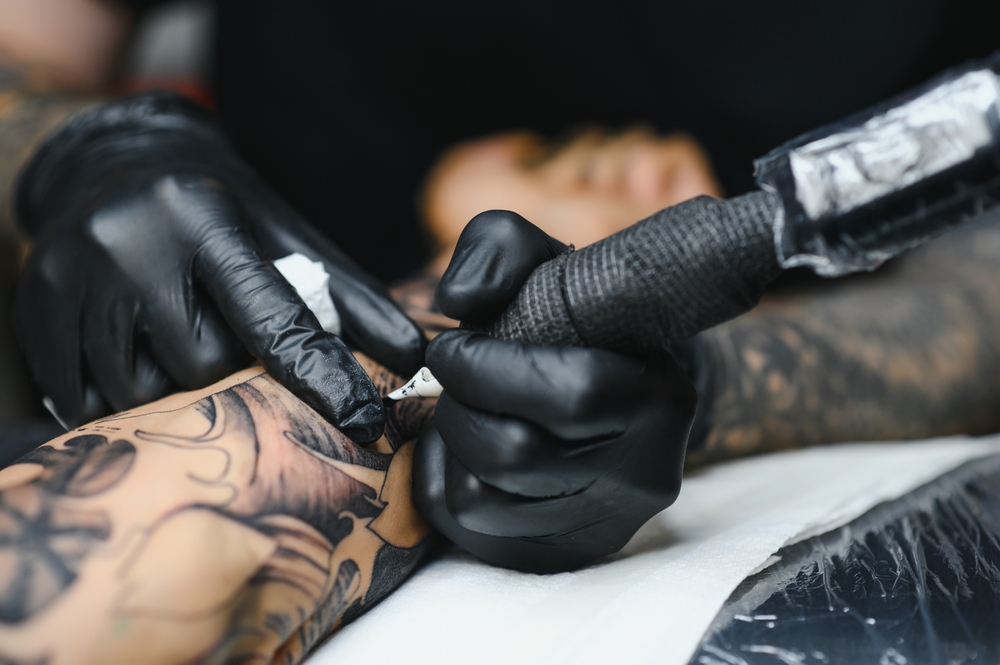 Permanent Ink, Disposable Gloves
When people are looking for a great tattoo, they consider a host of factors, the first of which is finding a tattoo that suits them. Once they have landed on a design, they are fast on their way to getting a piece of art that will last a lifetime. Next, they must find a tattooist whose particular tattooing style aligns with the design they have decided upon. While there are many talented artists to consider, one major factor to be considered is the atmosphere in which the tattooist will perform the procedure. It is important to make sure that customers feel comfortable during this body modification process and the best way to ensure this is by keeping a safe tattoo shop. There are many factors to be considered in how to keep your tattoo shop safe such as the cleanliness of surfaces, hygiene of the staff, and quality of the tattoo supplies. A professional solution to cover the aforementioned factors is by implementing the use of good quality disposable gloves. If you are looking for the best gloves for tattooing, UniSafe Inc. can provide you with a vast array of nitrile, latex and vinyl disposable gloves to suit your needs.
Clean Hands and Good Dexterity Equals Clean Lines
While the process can be exciting, it can be time-consuming, and dangerous for both the person receiving the tattoo and the tattoo artist. This is why it is of the utmost importance to acquire quality disposable tattoo gloves to administer the procedure safely, and in a professional manner. The right disposable glove will also allow for the dexterity and feel the artist needs. Whether they're using 8.5 volts on their power supply with a 0.35mm needle to pull clean line work, or using a 0.25 mm "bugpin" needle for intricate detailing, there is always going to be bleeding that occurs. Anytime bleeding occurs there is a potential for bloodborne pathogens, a risk that can be mitigated by the use of disposable gloves. Tattoos use ink, which can cause a mess if not controlled, or if accidentally spilled. Just for the sake of working efficiently, you'll need to use disposable gloves in your tattoo shop. The best way to alleviate the stress of handling hazardous materials is to reduce the amount of contact that occurs by using tattoo gloves. Keep in mind that a clean tattoo shop will garner a reputation for its practices in professionalism, a great way to do this is to make sure there are daily cleaning procedures put into place, another efficiency of keeping the right amount and type of disposable gloves as part of your tattoo shop supplies. You may even want to make tattoo after-care kits available to the customer, in which you could include disposable gloves for them to apply antibacterial soap and petroleum jelly. Keeping your tattooist and customers safe is essential to your success as a tattoo shop.
Cover Up Your Hands
Tattooing has been traced back and documented as far as the neolithic period of the stone age. During that time many practices changed like going from blades and threading needles to the electric tattoo machine patented in 1891 by a tattoo artist Samuel O'Reilly. These modern changes brought about several procedural standards to prevent infections, which brought us to treat tattooing with the same significance as a medical procedure. The necessity to have medical grade tools for tattooing starts with disposable gloves, which is why we have compiled some of the best gloves for tattooing from premium brands such as Gotham Powder-Free Black Nitrile Exam Gloves, Super-X Powder-Free Latex Examination Gloves, Reflex Powder-Free Vinyl Exam Gloves, VersaFlex Powder-Free Nitrile Exam Gloves, TopGrip HD 7 Mil Powder-Free Black Nitrile Exam Gloves, and PitBull Powder-Free Black Nitrile Exam Gloves. UniSafe Inc. makes supplying your tattoo shop with disposable gloves easy with online ordering. Keep your tattoo shop, artists, and customers safe, happy, and inked by stocking up on gloves today.