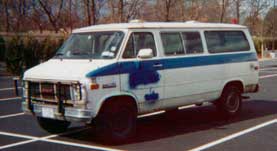 In March of 1999 we set out to build a company that focused on delivering great gloves at great prices.

We had a very modest start. It all started out of the back of the van you see below. With time and perseverance we grew into the multiple warehouses we are in today.

UniSafe Inc. was conceived because we needed good gloves to do our job and couldn't find them in local stores. Like a lot of people we didn't like our jobs either. Something had to change. We figured if we needed better gloves there must be others as well.

It's this unique experience that makes the difference. We chose not to rely on selling the generic gloves anyone could find in the hardware store or pharmacy. It's not just that they were generic...they didn't work. We challenged the conventional formula and created a new approach and process. Our gloves are very intentionally designed to be different from what you find in stores.

Even as we've grown in size, we're still the little guy and never take anything or anyone for granted. We will always remember our beginnings which forced us to be lean and agile. This is how we keep our prices low and stay open to new ideas and processes. When you call you won't speak to a representative who promises things that can't be delivered. If you have a comment, suggestion or idea we would love to hear from you.

Thank you,

Lawrence Drucker
President
UniSafe Inc.