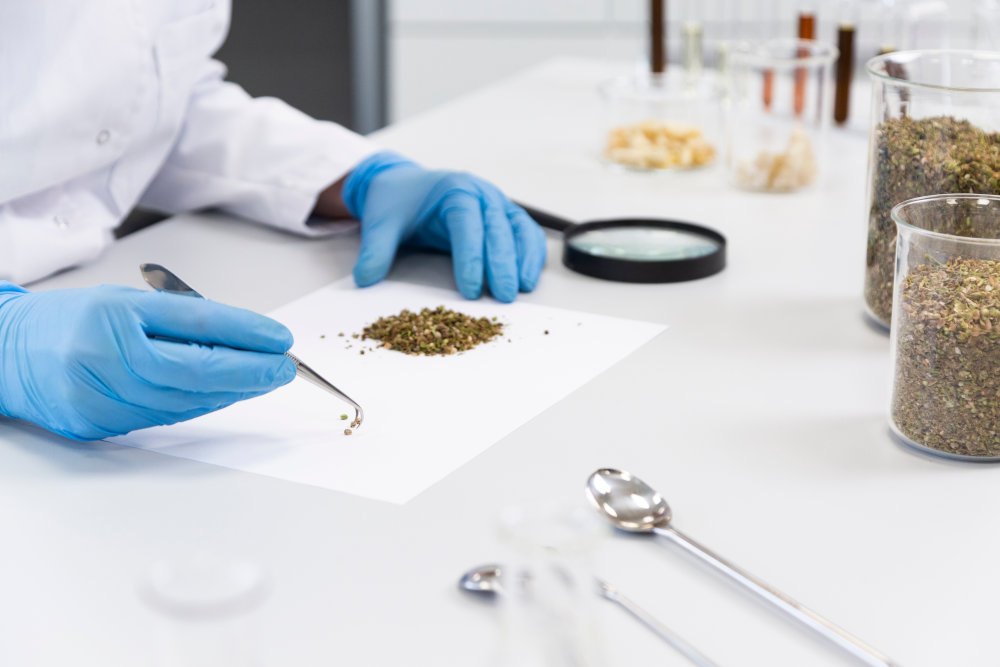 A Budding Industry
Cannabis is making its way into the business world and, no pun intended, is experiencing rapid growth. Cannabis companies provide a multitude of jobs across their infrastructure, consisting of departments that include cultivation, extraction, and packaging. One uniting factor amongst these cannabis industry jobs is the safety and compliance protocols constructed by both companies and regulatory agencies affiliated with the cannabis industry. These safety regulations are required to ensure the quality of the cannabis, the health of the employee, and the health of the consumer. One major step in ensuring the safe handling of cannabis is by using protective gloves. Whether you are a medical, recreational, or hemp-derived CBD company, UniSafe Inc. has a vast array of disposable gloves to help fulfill your cannabis compliance requirements.
Cultivation
Cannabis cultivation can be laborious, including working indoors at a hydroponic grow, or outdoors in a soil-based grow. Both indoor and outdoor grow facilities present unique challenges, requiring you to wear personal protective equipment, the most important of which is disposable gloves. The tasks that protective gloves will assist you with will be planting new clippings, trimming away water leaves, testing the nutrients in the soil, and transferring adult plants to a curing room. Being able to control your crop, depends on your cultivation team being able to control the environment, whether providing proper lighting exposure or water mitigation techniques, you will need to make sure you provide your cultivation team with high-quality gloves.
Extraction
One of the most sought-after products in the cannabis industry is cannabis extract or cannabis oil. These extract products allow for further integration into products for consumers including, distillate, RSO, shatter, diamonds, lotions, gummies, and oil tinctures. Cannabis oil extraction should be done in a controlled laboratory environment, using processes like closed-loop extraction via ethanol or CO2. This process will give you a viscous yellow or brown product that can be purified using a short-path distillation process. Short path distillation starts with using a rotary evaporator which extracts any remaining alcohol. Next, the cannabis oil should be transferred to the short-path distillation machine, where careful measurement of heat and pressure will remove terpenes, which are evaporating molecular hydrocarbon chains, as well as any further impurities. This process can only be completed using alcohol and ethanol, requiring you to use protective gloves and other personal protective equipment such as a ventilator mask and eye protection.
Packaging
Once the plants have finished curing, or the extraction product is in its final form, it is time to ensure that the cannabis is packaged safely and effectively. The cannabis plants will need to be inspected and trimmed by a packaging technician who knows how to trim cannabis to combat wasting any product. Trimming the cannabis plants means they will need to be handled by a packaging technician, thus making it a necessity to have disposable gloves at the ready. Once the cannabis has been trimmed, it now must be weighed and packaged in form with strict compliance regulation, again facilitating the use of disposable gloves. The next step is to take any waste and make it unrecognizable and unrecoverable, a process called green-wasting entails mixing dirt with any cannabis waste and putting it in a locked dumpster. Keep your hands and the cannabis clean with disposable gloves. Packaging the extraction products also involves technicians using their hands with viscous liquid extract, technicians can combat cross-contamination by using gloves.
Safety First
When it comes to cannabis processing equipment, UniSafe Inc. has options to keep your business, products, and employees safe. We have curated a selection of gloves for your cannabis facility including, Gotham Powder Free Black Nitrile Exam Gloves, Copperhead 8 Mil Heavy-Duty Powder Free Industrial Grade Orange Nitrile Gloves w/Diamond Texture, Black Python 8 Mil Heavy-Duty Powder Free Industrial Grade Nitrile Gloves w/Diamond Texture, Crowbar Heavy Duty 10 Mil Extended Cuff Nitrile Exam Gloves, TopGrip HD 7 Mil Powder-Free Black Nitrile Exam Gloves, and PitBull Powder Free Black Nitrile Exam Gloves. Personal protective equipment is an absolute necessity for all cannabis industry jobs, keep your facility at peak performance by stocking up on gloves today!